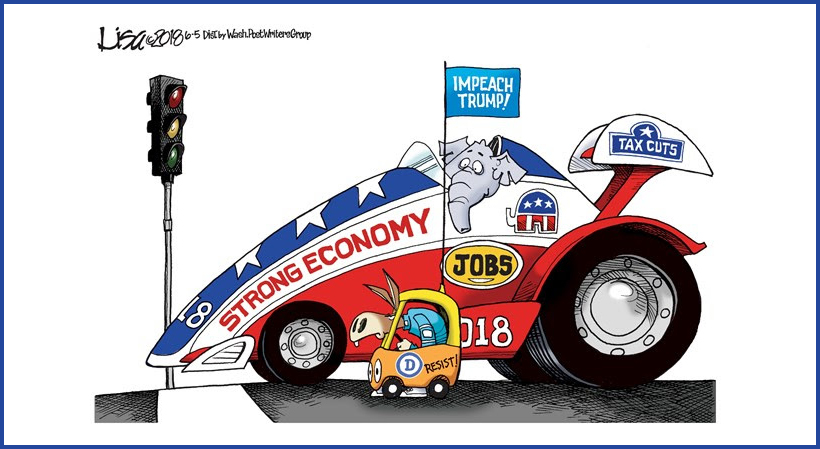 Part 1 of 2 parts
One would think from the Democrat Primary that Georgia was in very bad condition with "years of decay, economic downturn and social unrest after Republican leadership" Their ticket is headed by a Far Left candidate for Governor, a self-avowed Progressive, who is running with this as her theme and promising "Obama/Sanders Change".
Georgia's reality is quite the opposite.
This is a two part article.
Part 1 will outline current realities of Georgia's successful growth under Republican leadership, current economies including Georgia's and the U.S with beneficial results of President Trump Administration Tax Reform package.
Part 2 will outline the dominance of Democrat candidates, including the head of their Georgia ticket, who offer "Change" through their Progressive agenda.
Progress and Threats to Georgia's Growth Under 16 Years of Republican Leadership
After the Republican gaining leadership in 2002, the next 16 years of Governor Perdue and Governor Deal has turned Georgia from a rural, farming State to one of the Nation's very successful States with balance between a range of business and a fast growing economy.
Georgia is now the Nation's 8th largest State with approximately 11 million people and an annual budget of $56 billion.
Since the start of Republican leadership in 2002 Georgia has grown significantly in socioeconomic terms and has become one of the top States in the Nation in which to do business as demonstrated by the significant number of new business and jobs created, including a significant number of new ventures moving into Georgia from out of State.
Over the recent months, there have been many polls, both public and private, addressing the mood of the voters. One poll indicated that more than 50% of likely voters say they prefer a candidate for governor "focused on building a diverse economy with good-paying jobs and expanding opportunities for families to thrive."
I strongly suggest that the last 16 year trend of a growing, thriving Georgia will be significantly slowed or reversed by many of the this years' opposition candidates, and especially for Governor, who paint a very different and dire portrait of the State of the State based on their progressive visions and proposed changes.
We face important runoffs July 24 which include our candidates for Governor, Lt Governor and Secretary of State.
The winners will face a slate of Democrats headed by the Progressive Stacey Abrams and their objectives to change Georgia the way Obama promised Change to America in 2008. We have seen the results of these "Changes" and they are counter to America's progress.
For the upcoming Runoff and General Election, we need to focus on what the Democrats represent, especially for the top of their ticket and candidate for Governor, and we need to pick our strongest candidates to beat them in November.
We need to address all candidates with extra diligence of their qualifications, experience, demonstrated "on the job" experience they bring to the table and their capability of beating their opponents!
Realities of a strong National and State Economies under Republican Leadership
Luckily, the Republican Primary and Runoff options represents a very experienced and talented list of candidates, including those who directly participated in Georgia's significant economic growth and overall progress since the Republicans gained control of both the State House and Legislature.
Yes, Georgia's gains have mirrored the overall improvements in the Nation's economy due to President Trump's Administration programs, including the Tax Cut package passed last year, but the important point is that this road to growth started with Governor Perdue and survived President Obama's radicalism and "Change to America" as a result of Governor Deal's strong leadership.
Hats off to Governor Deal and his Republican Leadership in the State House and Republican controlled Legislature for Georgia's substantial continued growth under his 8 year term!
Significant accomplishments and legislation covers a long list which hopefully the Republican candidates will address in detail on their campaign trail. Some that rapidly come to mind include multi-billion dollar Transportation Bill, Mass Transit legislation, major port in Savannah, increased Educational Funding including increases in Hope Scholarships, increased Revenue, reduction in Income Tax rates, major Criminal Justice Reform and strong Voter ID laws. There are many more which I am sure the reader can add based on their own personal lists.
What are the Democrats running on in 2018? What blinders do they wear to block out the improvements in the National and State socioeconomic conditions since President Obama left office? Why do they want to raise taxes and impart increases in social programs when current statistics show real improvements and increases in the Nation's and Georgia's employment, wages and social conditions?
Things can always be improved but the starting point is not the dire picture painted by Stacey Abrams and her ticket as part of their agendas.
Under President Trump, the nation's economy and growth has significantly come back after Obama's very lean years.
Latest national statistics for last month shows unemployment at historical lows with the job fields benefiting as follows: retail with 31,000 more jobs, health care with 29,000, construction with 25,000, professional and technical services with 23,000, transportation and warehousing with 19,000, manufacturing with 18,000, and mining with 6,000 jobs.
The unemployment rate for black workers hit new record lows in May, the Labor Department's Bureau of Labor Statistics reported Friday. Black unemployment fell sharply to 5.9 percent, beating out the 6.6 percent record low that was set a month earlier. The unemployment rate for Hispanic workers hit a record low in April, at 4.8 percent. The total unemployment rate for white workers dropped from 3.6 percent to 3.5 percent.
As reported by "Investor's Business Daily", June 4, 2018 there were 128.6 million full time jobs in the US in May, "a 904,000 job increase in one month, the largest jump in the data's history." Including part time jobs, "155.5 million Americans have jobs, a record." The financial paper further addressed the impacts of the tax package "After 8 years of economic stagnation under the neo-socialist politics of Obamanomics, the rising wages, jobs employment and income under the long overdue Trump Republican economic recovery are making America great again for those with low and moderate incomes."
President Trump's tax reform package is paying dividends both in the above increase in jobs and wages as well as resulting in more money after taxes in worker's pockets. In spite of what nay sayers like Nancy Pelosi and her fellow Democrats who claim the aforementioned financial paper indicated that "the majority of the tax cuts go to the rich" or that the benefits do not trickle down to all income levels, in fact the biggest relative tax cuts resulting from the tax reform are for those making less than $50,000 a year.
Can the Democrat Party take the Black vote for granted as they have in the past? Both the National and State Parties are apparently concentrating in this direction but the jury is still out on its logic or veracity.
Historically, there were shifts in the high numbers of Black Democrat turnout commensurate with support for Obama in 2008 where it was approximately 90%. It was still very high, but lower, in 2012 but has been eroding since then due to President Obama's string of failures in the economy, jobs, wages, etal and his continued racist themes.
In contrast, President Trump is delivering on his promises, including significantly helping the economy with increases in jobs, lower unemployment, more take home pay and forecasts for even more of a brighter future across socio-economic-racial lines as confirmed by latest released statistics on jobs.
Blacks are joining the GOP in greater numbers over the years and I have personally seen the turnout increasing at political events, the polls and "talking heads" on news programs. A recent article entitled "Are the Democrats Taking the Blacks for Granted" was along these lines and was very enlightening.
Summary
Georgia is the 8th largest State, has a State budget of $51B, has wages growing at 2 times the national rate, and has unemployment significantly down to the lowest in many, many years.
Georgia has progressed significantly under Republican Leadership over the past 16 years as have other States under Republican leadership. (In direct contrast to numerous States under Democrat Leadership whose economies continue to decline while budgets and taxes continue to rise due to excessive programs). Georgia's socioeconomic posture has made Georgia one of the more successful States in the Nation
The Trump economy, tax package, has added to the aforementioned economic well-being of Georgia residents.
Black and minority groups have benefited in the progress made under Governor Deal's and President Trump's Administration.
"Investor's Business Daily", June 4, 2018 reports "Trump/Republican economics is now resonating among blacks and Hispanics culturally as well, from young black millennials like Candace Owens to hip-hop stars like Kanye West…..That is why republicans are now moving ahead of Democrats in national generic polls for the year's midterm elections."
"If it is not broken-don't fix it". Georgia's midterm election reflects a significant contrast in Parties and Candidates.
The Republicans have very competent candidates who have participated in Georgia's success.
The Democrats have a ticket headed by a Progressive, Sanders/Hillary backed candidate for Governor who is targeting racial, social and income classes with ideology and programs that are counter to the progress that Georgia had made for them and all its citizens and which would seriously hamper the State's future progress in attracting new business and jobs.
Conclusions
The July 24 runoff is a critical test for the selection of the best candidates for Georgia continued leadership and success.
"Complacency" should be replaced with "awareness and involvement" over the next 5 months.
Be aware and knowledgeable of the Issues and Candidates. Talk to your friends and neighbors. Go to rallies or debates.
VOTE.
---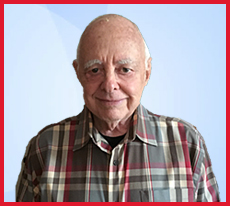 By Larry Laibson
Larry has lived in Atlanta since 2002 and worked as a Project Manager for the U.S. Department of Defense for 42 years. Larry is active in both the Republican Jewish Coalition and the Fulton County GOP and has collaborated with Georgia Representatives and Senators to draft several substantial bills. He has been a Precinct Captain and a two-time member of the 6th District Convention Resolution Committee, member of the GA GOP 2016 Convention Resolution Committee, and is currently serving his third term as Fulton County GOP Vice Chairman.
---
DISCLAIMER: The views, opinions, positions, or strategies expressed by the author are theirs alone, and do not necessarily reflect the views, opinions, or positions of The Buckhead Republicans. If you are a gifted writer or would like to share your thoughts and ideas, please contact us about guest blogging opportunities.
---
ARTWORK SOURCE:
Blog article artwork has been retrieved and adapted from The Jewish World Review, © 2018 on June 6, 2018.
---