POLITICS HAS CHANGED AND WE NEED TO LOOK FORWARD
Politics, both State and National, has reached new levels of discord. I remember many years both in New Jersey and in Georgia where there were vast differences between the Parties, candidates and elected officials across a broad front of issues. I remember many contentious times under Presidents Johnson, Carter, Reagan and Clinton with very strong players on both sides of the aisle and friends and family having strong positions on both sides of the arguments.
Through this long period, we had strong Presidents; strong Leaders in both Parties and many very strong issues there were always accompanied with hard negotiations and compromises. Yes, it was often like "watching sausage being made" but decisions resulted and the Nation moved forward.
This all seemed to change under President George W. Bush Jr where partisan sniping aided and abetted by the media began in earnest. This accelerated under the next generation of Democrats led by Pelosi and Reid in the 2006 Congress and took on even more intensity with the post Obama years when Trump beat the heir apparent Hillary Clinton.
The aftermath of the 2016 elections was a strong carry-over of Republicans who were not in favor of Trump along with the carry-over of "Pelosi" Democrats who thrived on their very vocal and antagonistic tactics that they had improved on since 2006 and were still supported by an even more liberal and biased mainstream media. Consequently we have gone through a very contentious first two years of Trump's term.
The Republican Party remains split and not united on support of the Presidency on many key issues and on combatting a Democratic Party which has become even more far Left (dominated by Democratic Socialists) accompanied by the same very biased and supportive main stream media.
Concurrently, demographics are also changing due to a variety of factors and once Republican or "red" States or areas have become more Democrat and "blue" with consequent "surprise" election victories which has resulted in a split Congress after the recent mid-term elections.
How do you feel about the recent political dynamics? Do you have concerns about the recent mid-term elections and/or the 2020 elections? How would you like your Republican leadership on the Grass Roots, County, District and State levels to act and what would you want them to accomplish over the next two years?
GEORGIA GOP MASS MEETINGS
We are entering our biannual cycle for Georgia GOP "Mass Meetings" which are a great opportunity to get involved and participate in important decisions that will affect you, Georgia and the Nation both short and long term.
These meetings, four in total, begin in February and conclude at the State Convention in May. At the meetings, important issues will be highlighted based on input from attendees and elections for Officers will occur.
I started participating in this cycle, circa 2004, several years after I moved to Georgia and I strongly urge you to do the same.
Join your friends, neighbors and get involved in the upcoming 2019 Mass Meetings. Express your opinions/make your voice heard. Help shape the future of Georgia GOP leadership and agenda so success will be facilitated for key 2020 elections, both State and National. The descriptions, dates and times for this year's Mass Meetings are shown on the cutout below and details for the Fulton County Mass Meeting follows. Contact your County Party to get specifics on locations, times and registration procedures for your County.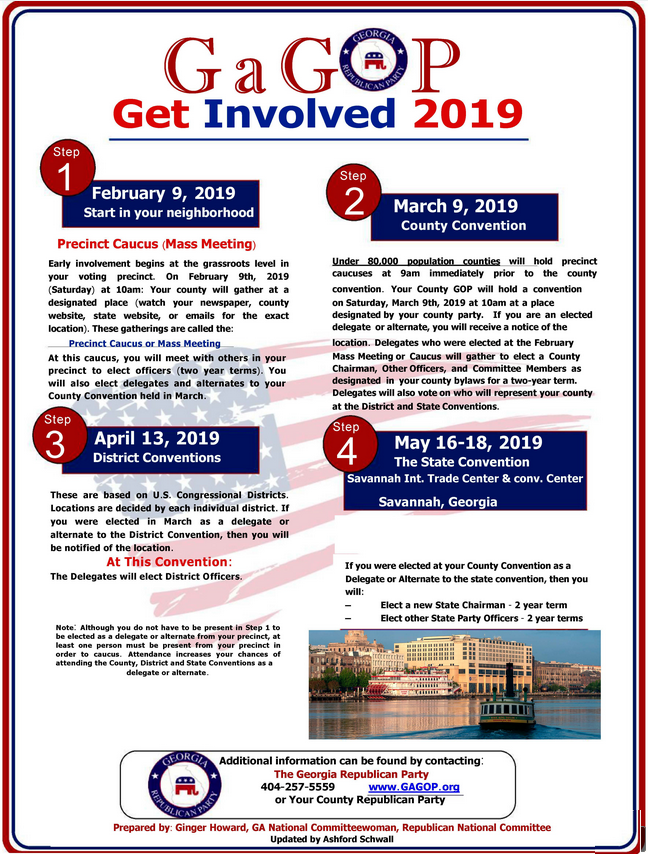 FEBRUARY 9th PRECINT MASS MEETINGS
Locations and Corresponding House Districts: February 9, 2019 9:00 AM

Roswell City Hall–38 Hill Street 30075 /Districts 48,51

Alpharetta City Hall–2 Park Plaza 30009 /Districts 22,25,47,49,50,95

Sandy Springs UMC (Sterling) 86 Mount Vernon Hwy, Atlanta, GA 30328 /Districts 45,52,80

Atlanta Masonic Lodge Buckhead–1690 Peachtree st NW 30309 /Districts 40,53,54,55,56,57,58,59

William Walker Rec Center (aka Ben Hill Rec Center 2405 Fairburn Rd SW 30331 /Districts 60,61,62,63,64,65
County Convention—March 9th. North Springs HS
District Conventions—April 13th —5th, 6th, 11th, 13th

State Convention—May 17-18th—Savannah
CONCLUSION
We had some surprises on the recent midterm elections and the national picture in Congress is getting more divisive and ominous as we approach the 2020 elections. Now is the time to start to address our GOP actions for the next two years. Attending the Mass Meetings give you the opportunity to participate in our path forward
For many, like myself, this is a very rewarding experience and I look forward to this bi-annual activity. I think you will really enjoy this experience and find it rewarding.
I look forward to seeing returning attendees from past Mass Meetings and seeing many new faces of first time attendees.
If you are one of the latter, I would love to hear from you by return email telling me of your plans.
I hope to see you at some of the Mass Meetings!
---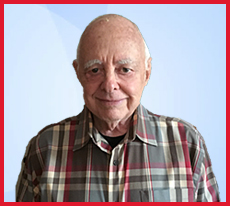 By Larry Laibson
Larry has lived in Atlanta since 2002 and worked as a Project Manager for the U.S. Department of Defense for 42 years. Larry is active in both the Republican Jewish Coalition and the Fulton County GOP and has collaborated with Georgia Representatives and Senators to draft several substantial bills. He has been a Precinct Captain and a two-time member of the 6th District Convention Resolution Committee, member of the GA GOP 2016 Convention Resolution Committee, and is currently serving his third term as Fulton County GOP Vice Chairman.
---
DISCLAIMER: The views, opinions, positions, or strategies expressed by the author are theirs alone, and do not necessarily reflect the views, opinions, or positions of The Buckhead Republicans. If you are a gifted writer or would like to share your thoughts and ideas, please contact us about guest blogging opportunities.
---